On January 17th and 18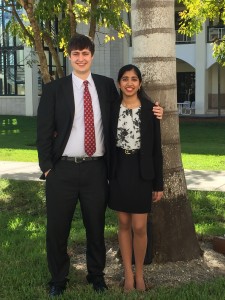 th, UConn Moot Court competed in the National Tournament for the American Collegiate Moot Court Association at Florida International University College of Law in Miami Florida. Each team consists of two students who argue both sides of a Supreme Court case before a panel of judges. This year, Luke LaRosa and Snigdha Mamillapalli represented UConn at the National Tournament.
To earn a spot to the National Tournament, teams must first compete in a regional tournament. The top scoring teams from each regional competition advance to the National tournament. Nearly 400 teams competed throughout the various regional competitions. Only 80 were invited to the national tournament.
For the first day of competition, teams compete in three rounds, against three different teams. At the close of the first day of competition, UConn was one of only 6 teams undefeated. 45 teams, including UConn advanced to the second day of competition. We were, unfortunately, eliminated in the second round of competition on Saturday. Our team ranked among the top 32 teams at the tournament. I am incredibly proud of their performance and dedication throughout the entire competition season.
In addition to the two students competing, several other members of the UConn Moot Court Team traveled to Miami to help cheer on our competitors. These students were the highest scoring UConn students at the regional competition in November who did not advance to the national tournament. They were a huge help to Luke and Snigdha as they prepared for the national competition.
Looking forward to next year's competition season!
If you're interested in finding out more about Moot Court, look for them at the Involvement Fair or find them on UConntact!
---