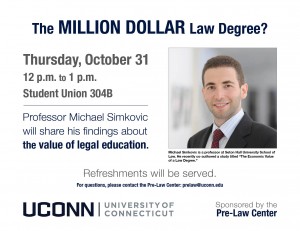 The UConn Pre-Law Center is excited to host Professor Michael Simkovic, co-author of "The Economic Value of a Law Degree."  Prof. Simkovic will be speaking on Thursday October 31st, from 12:00PM – 1:00PM in Student Union Room 304B.
The general view is that law school has become an unwise investment. Prof. Simkovic's research calls that general belief into question. He'll be discussing his findings on the value of legal education compared to a bachelor's degree.
Refreshments will be served.
If you have any questions, please let us know!
---